Willkommen, bienvenue, welcome! Even voorstellen Deel 6
08/04/15 21:07
Even voorstellen - 6


Kaarten voor de Can Can Dinnershow zijn NU te bestellen via
De Winkel van Sinkel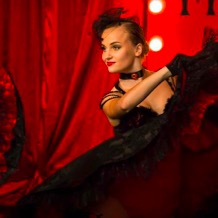 Kai Pretorius - Dancer


23yrs old, born 25-03-91 in South Africa.


In June 2014 I decided to make a big change in my life - I packed my bags and bought a one-way ticket to The Netherlands, hoping to follow my dream of dancing in Europe.


I am a born and raised South African dancer with a solid classical and modern training. In my home city, I was a soloist in a project based company called Break-Thru Dance Company, directed by Taryn Makaab Smit. Prior to that I was a top 10 finalist in So You Think You Can Dance, South Africa. While dancing professionally, I also attended University and graduated in 2013 with a Bachelors Degree in Graphic Design.

Since being in The Netherlands I have enjoyed working with
De Dutch Don't Dance Division
, directed by Thom Stuart and Rinus Sprong, as well as
La Vinia Dans
, directed by Iris Houtgast. Along the way I have made wonderful friends, enjoyed many stroopwafels and learnt to speak some Dutch!


My dance journey in Europe has only just begun, but I am excited for what the future holds. I travelled half way across the world to chase my dreams and now, living and working in Amsterdam, I am experiencing the world I always dreamt about.