Willkommen, bienvenue, welcome! Even voorstellen Deel 8
11/04/15 12:29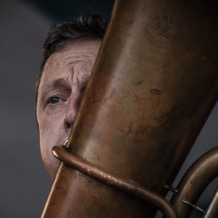 Patrick Votrian - Tubaist
De in Los Angeles geboren Patrick Votrian speelde op 12 jarige leeftijd in looporkesten en in jazzbands. Vervolgens ging hij op de Klassieke en Avant-guarde muziek af, heeft heftige tussendoortjes met de Free-Jazz, Wereldmuziek en "Nederlandstalige" idiomen gehad om uiteindelijk zijn doelen te richten op de Popmuziek scene.

Op het internationale niveau heeft hij het podium gedeeld met artiesten zoals Leonard Bernstein, Charlie Haden, Karlheinz Stockhausen en James Carter. Dichter bij huis heeft hij o.a. samengewerkt met Bram Vermeulen, Bob Fosko, Wende Snijders en Colin Benders alias Kyteman.

In Frankrijk heeft hij gewerkt met Olivier Messian, Pierre Boulez, Vinko Globokar en Trio Le Cercle maar ook Monofocus en Têtes Raides.


"I love the French. And their wine. And their cheese. And don't forget rilliettes de porc. And Romain is really cool. He's French too!"


Patrick Votrian bekleed de positie van Principle Tubaist in The Kyteman Orchestra.